The Office of Food and Nutrition Services provides a variety of nutritious choices for breakfast and lunch every day. Our menus are planned by a registered Dietician in accordance with the Dietary Guidelines for Americans. The school lunch program is operated under the federally funded National School Lunch program and administered by the USDA and the Virginia Department of Education. We served 277,206 breakfasts and 1,085,669 lunches last year. We look forward to serving you this school year.
NEW for 2018-2019 You can now complete your Free/Reduced meal application online!
https://www.myschoolapps.com/Application
APS SEVERE ALLERGY GUIDELINES Arlington Public Schools (APS) aims to provide a safe, academically enriching, and socially accepting setting for all students. Guidelines were developed by SHAB to specifically address the needs of students who live with life-threatening (primarily) food allergies. All APS schools are encouraged to implement these evidence-based recommendations, which outline prevention and response protocols.
APS Food Allergy Guidelines 2018
---
In accordance with Federal Law and U.S. Department of Agriculture policy, this institution is prohibited from discriminating on the basis of race, color, national origin, sex, age, or disability. To file a complaint of discrimination, write USDA, Director, Office of Adjudication,1400 Independence Ave, SW, Washington, DC 20250-9410 or call toll free (866)632-9992 (Voice). Individuals who are hearing impaired or have speech disabilities may contact USDA through the Federal Relay Service at (800)877-8339; or (800)845-6136 (Spanish). USDA is an equal opportunity provider and employer. 2013-2014
@apslunchrocks
@wingeds
Our deliveries are in and we are back on schedule!
Published January 18, 19 6:45AM
If your family is affected by the government shutdown, you may be eligible for free or reduced meals. Click here ——>
https://t.co/LmRNBG7k6m
to fill out an application reflecting your most current household income.
https://t.co/NsGoNwHJCq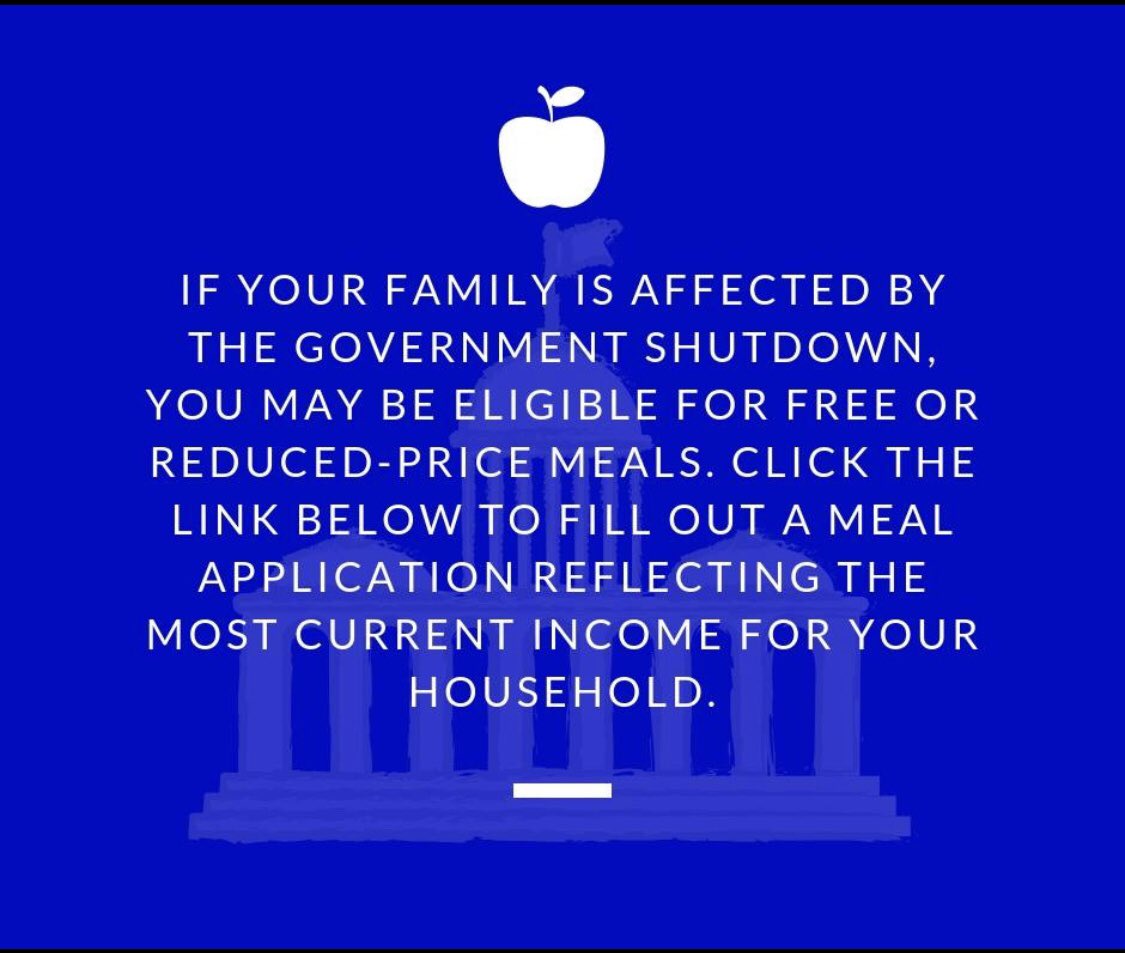 Published January 18, 19 6:09AM
@Bjain100
We plan to be back on schedule Friday which would mean no spaghetti this week.
Published January 16, 19 1:43PM
Published January 16, 19 11:53AM
Tomorrow at ES and MS- Because of delivery delays we will not be serving spaghetti tomorrow. Most schools will be serving hot dogs and a few will be serving chicken sandwiches.
Published January 16, 19 11:42AM
Follow