"Promoting active, healthy lifestyles and safe infrastructure that supports bicycling and walking"
Welcome to the Arlington Public Schools Safe Routes to School website! Safe Routes to School (SRTS) is a national program that works to make it safer and easier for students to walk or bike to school. SRTS programs examine conditions around schools and conduct projects and activities that work to improve safety, enhance accessibility, and reduce traffic and air pollution in the vicinity of schools.
This website contains educational information on how you can help to encourage students to walk and bike safely to school. You can learn about the Safe Routes to School program, find resources to help implement walking and biking programs, learn about successful programs in Arlington, research funding opportunities, and quickly access partner organizations.
Benefits of walking or biking to school:
Walking one mile to and from school each day is two-thirds of the recommended sixty minutes of physical activity a day. Students who walk to school have higher levels of physical activity throughout the day.
Studies show that students who walk and bicycle to school are more physically active, have lower body mass index scores, and have lower obesity levels than students who are driven or bused to school.
Walking and biking are better for the environment, help reduce vehicle traffic caused by drop-offs/pick-ups, and allow students a chance to socialize before and after school.
---
The Safe Routes to School office can provide you with information on:
Walk & Bike to School Day events and celebrations
Crossing Guard Appreciation Week
Pedestrian and Bicycle Safety Education in Schools
Student Travel Tallies (administered annually)
Evaluation of student arrival and dismissal procedures and walking/biking conditions at your school
Approaches to working with APS and/or Arlington County on infrastructure concerns and requests for pedestrian access improvements on or near school grounds
* For Traffic enforcement in school zones, please communicate with your School Resource Officer or call the Arlington Police Department non-emergency line at 703-558-2222.
News Updates
Arlington County is seeking School Crossing Guards for Arlington Public Schools located around the county to provide vehicular and pedestrian traffic control and to promote maximum safety in the movement of children to and from schools.Arlington County Public Schools serve a diverse population, including parents and children for whom English is a second language. The work is normally limited to those hours during which school is opening, recessing or closing, but may be changed at short notice due to bad weather or other emergencies. Specific duties include:
Directing traffic at school crossings and assisting school children and other pedestrians crossing the street;
Reporting accidents and directing traffic until officers arrive;
Promoting safety awareness and advising officers of safety problems at school crossings;
Turning on/off winkomatic traffic control device and reporting malfunctions to supervisor for repair; and
Performing biannual pedestrian and vehicle counts at crossings.
The successful employee will report promptly either with personal or public transportation; be accessible during school hours by telephone in order to respond to emergency schedule changes; exercise mature and alert judgment; direct vehicular and pedestrian traffic; deal firmly and courteously with the public, particularly school age children; and be willing to work in all types of weather.
___________________________________________________
APS Goes the Distance to Celebrate Bike Month 2020

With APS closed to limit spread of COVID-19 and Bike, Walk and Roll to School Day 2020 cancelled, we could not gather at school this year. But we could still bike–as long as we followed social distancing guidelines, biked with people we live with and heeded all the usual bike safety rules.
So instead of celebrating for one day, we opted to GO THE DISTANCE, FROM A DISTANCE for the entire month of May (also known as  Bike Month), by offering daily resources, ideas and tips on biking! Visit the APS SRTS Walk/Bike/Roll to School Day page to check out the resources we compiled to celebrate biking, walking and rolling — in ways that fit with local public health guidance — not just on Bike to School Day, not just during Bike Month, but all year long!
For the fourth consecutive year, an Arlington crossing guard has been named one of Virginia's Most Outstanding Crossing Guards. The Virginia Dept. of Transportation Safe Routes to School Program selected Taylor Elementary School's Zeleke Taffesse from among 70 crossing guards and 300 nominations received throughout the state.
"Mr. Z," as he is known, is a positive role model who received over 30 nominations from the Taylor Elementary School community. He also serves Dorothy Hamm Middle School at arrival and dismissal time every day. Read more about Mr. Z and his fellow honorees here.
Each October since 2013, Arlington Public Schools has conducted a system-wide, in-class survey of how students in grades K-10 travel to and from school. These annual Student Travel Tally counts help APS assess current transportation needs, recommend infrastructure improvements, and develop a long-term transportation plan that promotes smart, sustainable choices for students, families, and staff.
This year's counts were tallied and submitted electronically instead of with paper tallies. Elementary homeroom teachers (grades K-5) and secondary Health/Physical Education teachers (grades 6-10) were asked to conduct the counts for two days during one week of the tally period, asking students how they traveled to school that morning and how they will travel home that afternoon. Choices included walk, bike, school bus, family vehicle, carpool, public transit, and other (skateboard, scooter, etc.)  APS SRTS submitted tally data to the National SRTS Data Center in November 2019 and results will be available in Winter 2020. Parent and staff transportation surveys will be conducted in March 2020.
To promote the great health, environmental, community-building and transportation benefits of walking, biking and rolling to school, Arlington Public Schools marked Walk, Bike and Roll to School Day 2019 on Wednesday, October 2. Students here in Arlington joined schools, families, community members, law enforcement and elected officials around the world in walking, biking, and rolling to school.
Dr. Charles R. Drew Elementary was our focus school this year. To recognize Drew's new "neighborhood school" status, with more walkers and a more localized school community, Principal Kimberley Graves led Drew Physical Education staff, extended day students and student patrols in a pedestrian and crosswalk safety demonstration, set up by Arlington Transportation Partners, WalkArlington, and BikeArlington with support from See Me Flags.
To m
ark Drew's new STEAM focus, all students created a "human bar graph" showing how many students walked, biked or rolled to school. The Arlington County Fire Department took part in the celebration by providing a ladder truck for staff to take a photo of the graph. Arlington School Board Vice Chair Monique O'Grady and Arlington County Transportation Director Dennis Leach were in attendance.
On Walk Bike and Roll to School Day 2019, APS also kicked off a year-round commitment to active transportation, encouraging schools and students to walk the walk all year long by adopting weekly walking and biking promotions like "Walking Wednesdays" and "Foot Fridays," supporting formation of Walking School Buses, Bike Trains and other creative commutes, and sharing important pedestrian and bike safety information for all ages.
Ready to kick off a year of active transportation?  Check out these resources from the national Walk and Bike to School Day website, Virginia's Safe Routes to School program, and Arlington County's WalkArlington, BikeArlington, and Arlington Transportation Partners as well as APS' own SRTS information and resources for event days and every day.
STOP! ACPD Now Hiring Crossing Guards for 2019-20
Are you looking for rewarding part-time work? Enjoy spending time with kids? Like to be outdoors? Then it's time you considered working as an Arlington County Crossing Guard!
With new schools opening and another school year about to start, Arlington County Police is hiring crossing guards for Arlington Public Schools for the 2019-20 school year!
Virginia Safe Routes to School by the Numbers 2018-19
Check out these impressive state-wide Safe Routes numbers for the 2018-19 school year!
APS did our part to contribute to this record-breaking year and are well-positioned to keep moving forward–walking and wheeling–when students return in September 2019. Happy Summer!
To promote the great health, environmental, community-building and transportation benefits of biking and walking to school, Arlington Public Schools took part in Bike, Walk and Roll to School Day 2019 on Wednesday, May 8.
This year marked the eighth annual national celebration, and students here in Arlington once again joined schools, families, community members, law enforcement and elected officials around the country in celebrating the joys of biking, walking and rolling to school.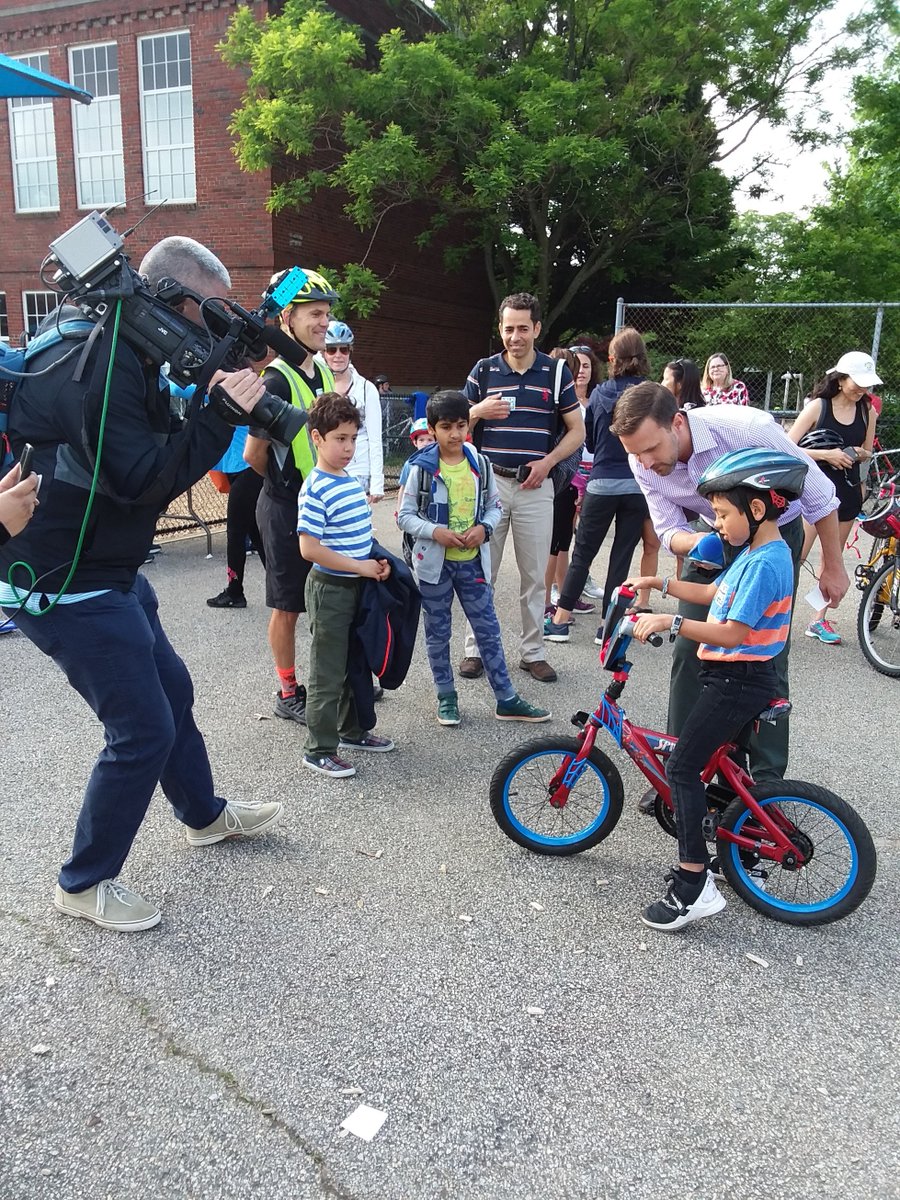 APS school-based events included bike parades, bicycle check-ups, safety resources, and giveaways from DC Bike Ride, BikeArlington and WalkArlington. The happenings at Arlington Traditional School even generated some local news coverage on WJLA-TV (ABC)!
For fun ways to encourage biking and walking on event day and every day, visit the national Walk Bike and Roll to School Day website, check out all the great resources on Virginia's SRTS site, and use BikeArlington's Bike Walk and Roll to School Day Toolkit!
Jamestown Elementary School Crossing Guard Kathy Patterson has been recognized by the Virginia Department of Transportation's Safe Routes to School (VA SRTS) program as one of Virginia's Most Outstanding Crossing Guards for 2018-19.  

Nominated by multiple Jamestown families, Patterson is one of six Crossing Guards across Virginia to receive the honor for 2018-19.  VA SRTS received nearly 200 nominations for 72 different crossing guards throughout the Commonwealth this year.
Jamestown celebrated Ms. Patterson's recognition with a school-wide assembly, attended by students, families, staff, and special guests, including APS Superintendent Patrick Murphy and representatives of the Arlington County Police Special Operations, which includes the Crossing Guard Unit and School Resource Officers.
The state-wide honor is part of Crossing Guard Appreciation Week, an annual Safe Routes to School celebration recognizing Crossing Guards for the critical role they play in the safe routes to school network.
MEET KATHY:  Check out this fun video, Chapter #6 of Arlington's Car-Free Diet Stories, which introduces you to Kathy — and a few members of her Jamestown/APS fan club!
________________________________________

The Arlington County Board recently approved a nine-month pilot project for Shared Mobility Devices (SMDs). 
SMDs include shared bicycles, shared electric bicycles and shared electric-assist scooters (e-scooters). The pilot will test a framework for use of SMDs in Arlington and evaluate the impact of the SMDs in our community. There are opportunities for the community to submit comments on the program, and general information on the Arlington County SMD pilot is available online.
While shared bicycles have been around for a while, shared e-scooters present some unique considerations for the general community and for APS in particular. To ensure that students, staff and families understand SMD user expectations and County regulations, APS has prepared the following list of FAQs that answer the most relevant questions. Families are also encouraged to review the County webpage , Arlington County Commuter Services dockless webpage and guidelines prepared by e-scooter operators with students to become familiar with this new transportation mode and the guidance Arlington has made available.  
_______________________________________________________________________________
Walk and Bike to School Day is an annual celebration that encourages students to bike or walk to school while teaching them about the health, environmental, and travel benefits of active transportation. Held annually on the first Wednesday in October, Walk and Bike to School Day also helps to raise community awareness about the importance of pedestrian and bicycle safety education, safe routes to schools, well-maintained walkways, and traffic calming in our neighborhoods and around our schools.
The 2018 celebration took place in Arlington and around the world on October 10. Virginia set a new state record with 357 Walk and Bike to School Day events. APS added 37 celebrations to that total, including APS' 2018 Walk and Bike to School Day "focus school" Claremont Immersion Elementary School, which hosted a bi-lingual multi-modal transportation celebration on feet, scooters, bikes, and trikes!
Visit  Walk and Bike to School Day or check out WalkArlington's Walk and Bike to School Day Toolkit for more information!
_______________________________________________________________________________
Student iRide SmarTrip Card Makes it Easier and Cheaper for Arlington K-12 Students to Get Around!
It Saves Money.  Arlington Transit (ART) bus rides only cost $1.00 with the card.
It's Easy. It's just like a regular SmarTrip card that works on ART, Metrobus, Metrorail and other buses.
It's Convenient. You don't have to worry about carrying cash.
Arlington students in grades K – 12 can purchase the card for $2.00 at any Commuter Store with locations in Ballston, Rosslyn, Crystal City and Shirlington, or the Mobile Commuter Store, which makes regularly scheduled stops throughout Arlington. Students must purchase the card in person, complete the registration form (see below) and show their student ID (if applicable) or any form of ID at the time of purchase.
Registration Form (PDF) — The Student iRide SmarTrip card must be registered at the Commuter Store at the time of purchase. Print and fill out the registration form ahead of time and bring it with you to the Commuter Store to make purchasing the card quicker and easier.
__________________________________________________________________________________________________________________
APS Safe Routes to School HEADS UP! PSA Contest Entries Available for All to Use

When traveling to and from school each day—whether on foot or by bike; by school bus or public transit; by car or carpool—staying safe means staying alert. Staying alert means keeping HEADS UP!, paying attention and looking out for yourself and others.
To encourage safe travel habits, APS SRTS sponsored HEADS UP!, a contest challenging students to create video and print Public Service Announcements that remind students to stay alert–and safe–while traveling to and from school.
Open to all APS students, grades K-12, the Contest asked APS students to create PSAs incorporating the "HEADS UP!" theme. Judges are now choosing winners for each Format (Video or Print) in each Grade Level Category (K-2, 3-5, 6-8, 9-12).
To enter, students were asked to create an original Video or Print PSA, complete the Entry Form and submit by March 22. Winning HEADS UP! PSA entries have been posted online for APS schools to use internally to promote safe travel to and from school.

To see the student-created HEADS UP! print and video PSA entries, click here. Congratulations and thank you, students!
_____________________________________________________________________________________
APS Crossing Guard Named One of Virginia's Most Outstanding for 2017-18
Kenmore Middle School crossing guard Almaz Abebe has been recognized by the Virginia Department of Transportation's Safe Routes to School (VA SRTS) program as one of Virginia's Most Outstanding Crossing Guards for the 2017-18 school year. VA SRTS received over 150 nominations for 76 different crossing guards throughout the Commonwealth this year. Abebe is one of six crossing guards state-wide to be recognized as one of Virginia's Most Outstanding. The honor is part of Crossing Guard Appreciation Week, an annual VA SRTS celebration recognizing Crossing Guards for the critical role they play in the safe routes to school network.
Nominated by a Kenmore family, Abebe is the ever-vigilant crossing guard who is at her post on busy Carlin Springs Road before dawn and again at afternoon dismissal every school day, in all weather conditions. Known for her strength, awareness, and professionalism, she maintains firm control over the flow of buses, cars, construction vehicles, pedestrians, and occasional cyclists who travel through her intersection, remaining focused on ensuring student safety.
The family who nominated Abebe recalls how, "One day in early September, she saved an over-eager sixth grader from nearly being run over." According to the student's parent, "All of the traffic lights surrounding Kenmore were blinking yellow. The police department stationed a cruiser to stop traffic so that the crossing guard would be able to cross the children safely. My child, new to middle school and oblivious to her surroundings, stepped off the curb into oncoming traffic. Ms. Abebe physically lifted her out of the street and back onto the sidewalk. I saw the entire incident from two blocks away, and all I could think until Ms. Abebe got her back onto the sidewalk was 'My child almost died on her first day walking to middle school.' I am incredibly thankful."
Abebe has been with the crossing guard unit since February 2015. She has been stationed at 3rd Street and S. Carlin Springs Road since she started. She also has a second crossing at Patrick Henry Elementary School. "We are very proud of Almaz for receiving this recognition," said Kenmore Principal David McBride. "She makes students feel safe while crossing Carlin Springs Rd., and hers is the first smile they see as they come to school."
---
APS Contributes to Record-Breaking 2016-17 Virginia Safe Routes to School Event Participation
APS has been recognized by the Virginia Department of Transportation Safe Routes to School (SRTS) program for leading the way in all four state-wide Safe Routes to School events in 2016-17 and for leading our region with the most all-time SRTS event participation! The four annual SRTS events include: Walk and Bike to School Day (October); Student Travel Tally Week (October-November); Crossing Guard Appreciation Week (February); Bike and Walk to School Day (May). There are three SRTS regions in Virginia (Coastal, Piedmont, and Blue Ridge).
APS schools topped the list of accolades for the Coastal Region in both state-wide categories of recognition. Ashlawn and Campbell Elementary Schools received Hall of Fame honors for most all-time event participation in the Coastal region, the only schools from our region to be recognized. Of the 17 schools recognized as the Coastal Region's All-Stars of the Year for the most participation in 2016-17 SRTS events, 14 are from Arlington!
ELEMENTARY SCHOOLS: Barcroft, Barrett, Glebe, Jamestown, Long Branch, McKinley, Nottingham, Oakridge, Randolph, and Tuckahoe
MIDDLE SCHOOLS: Jefferson, Kenmore, Swanson, and Williamsburg
APS is on track to receive SRTS Hall of Fame and All-Star honors for the 2017-18 school year as well, with all of our schools participating in Walk and Bike to School Day in October 2017 and Student Travel Tally Week in October-November 2017. APS' 100% participation helped Virginia Safe Routes to School break previous annual state-wide records for each Fall 2017 event, with a total of 326 Virginia schools joining Walk and Bike to School Day 2017 and 245 Virginia schools participating in Student Travel Tally Week 2017.
Congratulations APS! Thanks for supporting active transportation and safe routes in Arlington!