APS Swim School Registration is now CLOSED.  New School Session in September
SWIMMING POOLS OPEN.  NO RESERVATIONS REQUIRED
Please go to Set up an Account if you are new.  To access your account go to Access the Self- Service
MASKS REQUIRED FOR UNVACCINATED VISITORS
You MUST shower before entering the pool.
APS AQUATICS
The Aquatics Program is managed by the Aquatics Management Office which is located in the Facilities and Operations Department. The office oversees the facility management and operations of the three Arlington Public Schools indoor swimming pools, the school-based Swimming and Lifetime Fitness Instructional Program , and the community-based drop-in and APS Swim School Programs. Our goal is to provide instructional and recreational aquatic opportunities to residents of all ages by supporting a variety of activities that promote healthy water-friendly lifestyles, confidence, and comfort.
The Long Bridge Aquatics and Fitness Center located on 475 Long Bridge Drive in Crystal City, is managed by the Arlington  Department of Parks & Recreation (DPR).  This new facility, expected to open Summer of 2021, will provide community-based instructional, fitness and competitive programs, and will be the home pool for the Arlington Aquatic Club (AAC). For information about classes and programs offered by DPR please follow this link: Sports-Aquatic Classes.
For more information about the APS Aquatics Centers, please call the individual pool or e-mail Helena Machado, APS Aquatics Director at helena.machado@apsva.us or call 703-228-6264.
Aquatics Management Office/Facilities and Operations                                                                                  
2770 S. Taylor St.
Arlington, VA 22206
Follow us on Twitter @APSAquatics
@APSAquatics

APS Aquatics Centers
@APSAquatics
Interested in working for a fun and exciting organization? Want to save lives? Teach water safety skills to the community? Come join our team at the APS Aquatic Centers! Flexible schedules and great pay! Please contact John (WL), Glen(WK), or Kevin(YT)
https://t.co/m342VkTFZP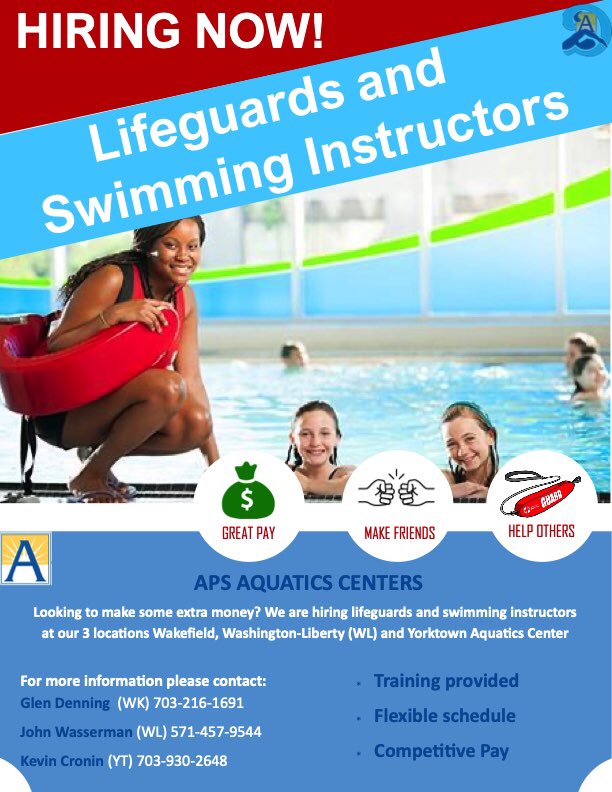 Published August 02, 21 1:21PM

APS Aquatics Centers
@APSAquatics
Published August 01, 21 6:39AM
Follow